ACLS (Advanced Cardiovascular Life Support) is designed for healthcare providers in resuscitation of the critically ill patient at the advanced level using medications, cardiac monitoring, electrical therapy and advanced airway placement. Any patient in any scenario can instantly become critical. ACLS training allows you to handle these unexpected situations.
The AHA recommends a basic skill set of BLS for Healthcare Providers (CPR/AED). The importance of effective team communication and appropriate action during resuscitation is emphasized. Students will learn how to respond to a critical situation as an individual, a team, and as a team leader.
ACLS is taught using a combination of classroom instruction and video tools by the American Heart Association, as well as simulated clinical scenarios which include hands-on participation.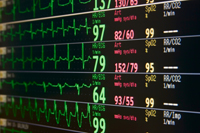 You will learn to manage cardio-pulmonary emergencies, including how to evaluate and manage a sudden adult respiratory arrest. You will understand how and why we use the defibrillator and synchronized cardioversion. At the end of the course, you should have a basic skill set of basic dysrhythmia recognition (EKGs).

At the end of the course, students must complete a written exam consisting of 50 multiple choice questions.
Schedule: ACLS is a two-day course. The ACLS Renewal course is a one-day course. ACLS and ACLS Renewal courses are held at CPR World several times per month. Class dates and times are listed on our Sign-up page.
ACLS Renewal Course: Students who have already taken the ACLS course in the past and need to renew may take the one-day renewal course. Students who have an expired ACLS provider card or do who not possess an ACLS provider card may still take the Renewal course. However, these students will not be given the option of remediation-- therefore if they cannot successfully meet the course completion requirements when tested they will need to return for a second day to complete the entire provider course (AHA Program Administration Manual page 51).
Cost: $435 for the full 2-day course and $335 for the one-day renewal course. Lunch is included and refreshments are available throughout the class.
How To Register: To register for a course, go to our Sign-up page and then click the class you would like to take. All classes must be paid for in advance.
Course Completion Card: Upon completion of the course students receive an ACLS course completion card that is valid for 2 years from the American Heart Association.
You will be able to identify and treat rhythm disturbances:
Stable and Unstable Tachycardia

Ventricular Fibrillation (V-Fib)

Ventricular Tachycardia (V-Tach)

Asystole

PEA (Pulseless Electrical Activity)

Bradycardia

Heart Blocks

Pacing
You will learn to manage:
Acute Coronary Syndromes

Acute stroke

AED Training