ACLS is designed for Healthcare Providers in the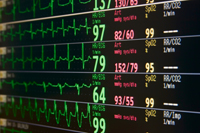 resuscitation of the critically ill patient at the advanced level using medications, cardiac monitoring, electrical therapy and advanced airway placement. Any patient in any scenario can instantly become critical. ACLS training allows you to handle these unexpected situations. The importance of effective team communication and appropriate action during resuscitation is emphasized.
ACLS is a two-day course and is usually held once per week. If you have taken ACLS in the past and need to renew, you may instead take the one-day ACLS Renewal course. Upon completion of the course, students receive their American Heart Association ACLS course completion card. Lunch on Day 1 and refreshments are included in the price of the class. The cost is $395 for the full two-day course or $295 for the renewal course.
ACLS Renewal Course Outline
• Course Overview: Purpose and Expectations
• ACLS Survey Introduction Video: 25 minutes
• Break: 5-10 minutes
• Vascular Access
• AED/Rhythm Disturbances/Electrical Therapy
• Bradycardia
• Sinus Tachycardia
• Supraventricular Tachycardia
• Pulseless VT/V Fib/Torsades
• PEA/Asystole
• Lunch Break: 30 minutes
• Basic Anatomy, Assessment: ABC, CAB
• Airway Management/OPA/ETT
• CPR 1 Person
• Bag Valve Mask
• 2 person CPR with Bag Valve Mask
• CODE Video
• 5-10 minute break
• ACLS Megacode
• Debriefing/Review
• ACLS Written Exam – 84% or greater to pass
• Course Ends