This course is designed for Healthcare Professionals in the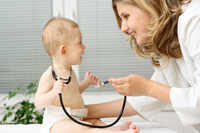 resuscitation of the pediatric patient at the advanced level using medications, cardiac monitoring, electrical therapy and advanced airway placement. PALS is designed for the Healthcare Professional routinely involved with pediatric patients. The importance of effective team communication and appropriate action during resuscitation is emphasized throughout the class.
PALS is a two-day course and is typically taught twice a month. If you have already taken PALS in the past and need to renew, you may instead take the one-day PALS Renewal course. Upon completion of the course, students receive their American Heart Association PALS course completion card. Lunch and refreshments are included in the price of the class. The cost is $399 for the full two-day course or $299 for the renewal course.
| | |
| --- | --- |
| Event Date | Tuesday February 16, 2021 -- 10:00 am |
| Event End Date | Wednesday February 17, 2021 -- 3:00 pm |
| Capacity | 7 |
| Available place | 5 |
| Cut off date | Tuesday February 16, 2021 -- 10:00 am |
| Individual Price | $399.00 |
| Location | CPR World 45 Dan Rd., Suite 142, Canton MA 02021 |
| | |
| --- | --- |
| Event Date | Monday March 8, 2021 -- 10:00 am |
| Event End Date | Tuesday March 9, 2021 -- 3:00 pm |
| Capacity | 7 |
| Available place | 7 |
| Cut off date | Monday March 8, 2021 -- 10:00 am |
| Individual Price | $399.00 |
| Location | CPR World 45 Dan Rd., Suite 142, Canton MA 02021 |
| | |
| --- | --- |
| Event Date | Wednesday April 7, 2021 -- 10:00 am |
| Event End Date | Thursday April 8, 2021 -- 3:00 pm |
| Capacity | 7 |
| Available place | 7 |
| Cut off date | Wednesday April 7, 2021 -- 12:00 pm |
| Individual Price | $399.00 |
| Location | CPR World 45 Dan Rd., Suite 142, Canton MA 02021 |